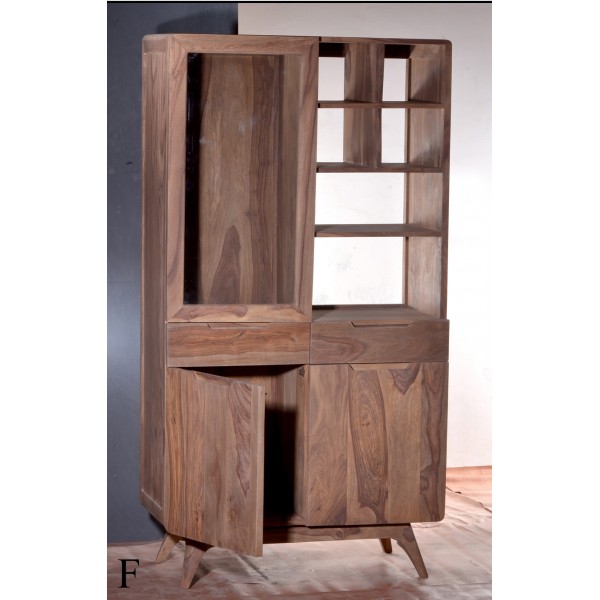 KBAR0183
L x W x H
96.00 x 43.00 x 179.00 CM
Overview
Owing to our rich knowledge as well as professional workforce, we have achieved a noted position as a reliable manufacturer and supplier of Sheesham Wood Bookshelves. It is a contemporary pi...
Owing to our rich knowledge as well as professional workforce, we have achieved a noted position as a reliable manufacturer and supplier of Sheesham Wood Bookshelves. It is a contemporary piece of furniture, that will add a touch of elegance and style to every living room. We use optimum grade sheesham wood sourced from trusted vendors, to design this wardrobe. Clients can avail this Sheesham Wood Bookshelves from us in different designs and finishing
Cleaning Technique

                            Wipe off the dirt from the furniture with a soft cotton cloth. Also avoid using the excess water for cleaning, take moistened cloth to wipe off the dirt.




Avoid chemical contact with the furniture as it may harm the natural finish and further the durability. Also, make sure to avoid application of polyurethane paints on the furniture.




Scratches, burns, residue and any other surface damage can be taken off with a fine-grit sandpaper. Reapply Polishing after sanding.




Terms & Conditions

1.For any questions or clarifications relating to the product, feel free to contact our Customer Support on +91-9782222263.
Understanding your Product: Accessories shown in the photograph are meant for representation purposes only, and are not part of the actual product.
2.Each Product has been crafted with finesse by our experienced artisans, using industry prevalent and traditional techniques. Wood grain, colour variance and texture changes are all part of the natural beauty of the product, and hence, may vary from item to item. Changes in temperature and atmospheric moisture may result in some movement.

3.The actual fabric or upholstery may have a slight variation from the product image depicted depending on your screen's colour settings, resolution and photography or fabric prints.
4.Furniture products having intricate and hand-painted details have been meticulously created by skilled craftsmen, following on the footsteps of several generations of accomplished artisans. Each piece of such Furniture is, thus, unique, and there is a possibility of slight differences between the picture and the actual product.
5.Placing an Order: Please check the dimensions of your entrance/door to your premise before buying, so that there is no problem in getting the product inside at the time of delivery. In such a situation, we will not be able to accept return or cancellation requests.
6.Certain items require no assembly and can be used as-is. For this, please check the item details. Wherever we assist with assembly, the carpenter visits will be scheduled along with the delivery of the item.
7.On Delivery: For all items that are expected to stand, ensure that they stand steady and are straight. An unevenness of up to 5 mm happens due to differences in surfaces and floor levels and is an accepted industry standard. In order to balance the item, bushes will have to be installed. For any such case, please report this to our Customer Support team and we will handle it from there. If your product has a layer of dust, or lacks in shine, rubbing it with a cloth will help. This is an accepted method of cleaning the surface of a furniture to make it shine.
8.Damages: K.B. Arts & Crafts delivery arrangements to your home have been designed to ensure a zero-damage and hassle-free experience. Please contact us immediately if:
Your product has any scratches of breakage that unfortunately might have occurred in transit, warranting your item to be fixed.
Any missing parts required in the assembly of the product should be immediately notified to the Customer Support team, so that they can be arranged to be delivered to you as soon as possible
9.Your item arrives in a damaged state. All claims of damage must be made maximum within 24 hours from delivery. Your requests for a repair will be processed as soon as we receive photographs that help us ascertain the extent of the damage. We request you to retain all packing materials unless instructed otherwise by our team. Refunds for returns will be processed when the item(s) has been picked up by us. Hence, please allow up to 2 to 3 weeks for reverse and then subsequent refund to process.
Cancellations: We accept cancellations within 12 hours from the time of placing an order, before the product enters the manufacturing phase

Delivery

Note: For the customer residing in Kerala, Jammu and Kashmir, Assam, etc would need to submit a scanned copy of their ID Proof and special forms in order to pass the product/s at the respective state border.
All the local delivery taxes like Octroi, Special State Taxes, Army Cantonment Areas, etc needs to be paid by the customer additionally at the time of delivery.